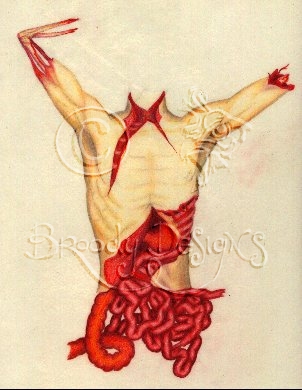 Crawling from the compost, Jaques Crampgut surveyed the scene.
'The fax machine is still intact, thank fuck' he thought.
He wanted to go left, however his guts had a wildly conflicting plan,
involving a cheesegrater and a couple of sharp yet withered sticks.
Agreeing to disagree, the troubled pair spudded one another and went separate ways,
loosely arranging to meet one another at Dixies Fried Chicken and Pizza at twenty past eight.
Jaques gave his gut a helpful kick towards the rubber buckets and sharp implements it so craved,
and strode on, gutless, towards the sea.
The album is curdling neatly in pressing plant near you and will be smouldering in your tawdry arms come July. Feed with gravel three times a day and it will shit you brilliance, i shit you not